PARP inhibitors as potential therapeutic agents for various cancers: focus on niraparib and its first global approval for maintenance therapy of gynecologic cancers
Gynecologic Oncology Research and Practice
2017
4:18
Received: 30 August 2017
Accepted: 9 November 2017
Published: 29 November 2017
Abstract
Poly (ADP-ribose) polymerases (PARPs) are an important family of nucleoproteins highly implicated in DNA damage repair. Among the PARP families, the most studied are PARP1, PARP2 and PARP 3. PARP1 is found to be the most abundant nuclear enzyme under the PARP series. These enzymes are primarily involved in base excision repair as one of the major single strand break (SSB) repair mechanisms. Being double stranded, DNA engages itself in reparation of a sub-lethal SSB with the aid of PARP. Moreover, by having a sister chromatid, DNA can also repair double strand breaks with either error-free homologous recombination or error-prone non-homologous end-joining. For effective homologous recombination repair, DNA requires functional heterozygous breast cancer genes (BRCA) which encode BRCA1/2. Currently, the development of PARP inhibitors has been one of the promising breakthroughs for cancer chemotherapy. In March 2017, the United States Food and Drug Administration (FDA) approved niraparib for maintenance therapy of recurrent gynecologic cancers (epithelial ovarian, primary peritoneal and fallopian tube carcinomas) which are sensitive to previous platinum based chemotherapy irrespective of BRCA mutation and homologous recombination deficiency status. It is the third drug in this class to receive FDA approval, following olaparib and rucaparib and is the first global approval for maintenance therapy of the aforementioned cancers. Niraparib preferentially blocks both PARP1 and PARP2 enzymes. The daily tolerated dose of niraparib is 300 mg, above which dose limiting grade 3 and 4 toxicities were observed. In combination with humanized antibody, pembrolizumab, it is also under investigation for those patients who have triple negative breast cancer. By and large, there are several clinical trials that are underway investigating clinical efficacy and safety, as well as other pharmacokinetic and pharmacodynamic profiles of this drug for various malignancies.
Keywords
PARPPARP inhibitorsDNA repairCancerMalignant tumorsMaintenance therapyNiraparibMk-4827ZejulaCompanion diagnostic*
Introduction
General principles of DNA repair
The human genome is constantly under stress due to insults from both endogenous (free radicals or reactive oxygen species derived from metabolic processes) and exogenous (irradiation, chemicals, clinical drugs, and viruses, among others) sources. This results in routine DNA damage that may in turn lead to a serious genetic instability and cell death if it is left unrepaired. Being double stranded and having a sister chromatid, DNA repairs itself prior to cell division in any one of the following repair mechanisms (Fig.
1
) [
1
–
3
].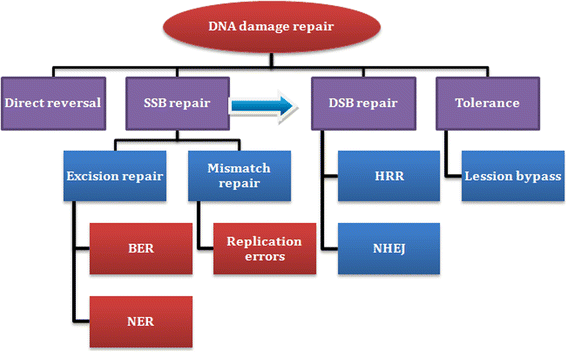 Direct reversal is highly efficient, applicable when there is a single lesion, and is essentially error-free. The lesion may be tolerated or bypassed if it does not have a significant risk on the ongoing DNA replication and the genetic stability in general. Coming to the single strand break (SSB) repair, since the damage involves one strand of replicating DNA, it can be repaired by undergoing either excision of damaged site (base or nucleotide) or correcting the mismatch bases complementary to the anti-sense (template) strand [2, 4, 5].When a SSB is left unrepaired due to genetic and/or epigenetic factors, it will progress to double strand break (DSB) during DNA replication. By having homologous chromosomes, DNA has a back up to undergo DSB repair either by error-free homologous recombination (HR) or error-prone non-homologous end-joining (NHEJ). If the DSB is left unrepaired, it leads to a breakdown of the chromosome into smaller fragments, genomic instability, cell cycle arrest and apoptosis [1, 4, 6, 7]. The more faithful process of HR repair of DSBs involves localization of BRCA-1 and BRCA-2 proteins encoded from breast cancer gene to sites of DNA damage, resection of the DSB, and gap-filling DNA synthesis using the homologous sister chromatid as a template [8]. Before the DNA enters the repair process, cellular response depends upon the magnitude of the damage, resulting in induction of cell-cycle checkpoint pathways and DNA repair mechanisms. G2/M check point is a critical point where DNA must be repaired before the cell enters cell division/mitosis. If the damage is extensive and irreparable, induction of cell death occurs [3, 7].
The role of poly (ADP-ribose) polymerases (PARPs) in DNA repair
PARPs are a member of nuclear protein enzymes highly implicated in DNA damage repair. During SSB, PARP detects the damaged site and undergoes post translational modification of targeted proteins by the process known as ADP-ribosylation. This process creates a conducive environment for recruiting several DNA repair proteins including topoisomerases, DNA ligase III, DNA polymerase β, and scaffolding proteins such as X-ray cross complementing protein 1 (XRCC1), among others. The ribosylation process also leads in relaxation of tightened chromatins and histones and results in unwinding of DNA to make it accessible for repair processes. What is more, PARP facilitates HR by recruiting factors such as ataxia telangiectasia-mutated kinase (ATM), mitotic recombination 11 (Mre11), and Nijmegen breakage syndrome 1 (Nbs1) to sites of DSBs (Fig.
2
) [
9
–
11
]. When PARP activity is compromised, these SSBs cannot be repaired and progress to DSBs at DNA replication forks. In a normal cell, there is a cellular backup by which DSBs are repaired with the aid of HR, a mechanism different from base excision repair (BER) and hence, even in the absence of PARP activity and loss of BER, DNA repair can be effectively taken place by this pathway. However, cells can have a double-hit whereby both BER and HR are compromised. These cells rely on error-prone NHEJ for damage repair, which results in DNA instability and chromosomal aberrations, eventually resulting in apoptosis. The dual-insult of HR and BER defects results in "synthetic lethality" justifying the potent and lethal synergy between these two otherwise non-lethal event when they occur alone [
1
,
11
]. Therefore, this review aims to address the role of common PARP inhibitors on cancer chemotherapy with special focus on niraparib and its first global approval for maintenance therapy of gynecologic cancers.

Methods
A total of 945 articles were retrieved from various legitimate data bases and indexing services (Directory of open access journals, PubMed, PubMed Central, MEDLINE, Scopus and ProQuest), as well as other supplemental sources and search engines (CrosRef, WorldCat, and Google Scholar) with the aid of key terms: "PARP", "PARP inhibitors", "DNA repair", "cancer", "malignant tumors", "Niraparib", "MK-4827", "Zejula", "maintenance therapy" and "companion diagnostic*". Boolean operators (AND, OR, NOT) were appropriately used for increasing the chance of obtaining relevant literature for this topic. Moreover, truncation was also applied to expand the literature searches and increase the number of related articles for inclusion. Following database searches and in-depth screening of each article by authors, majority of articles were removed from this study including duplicate articles from various databases and search engines; unrelated titles and abstracts; abstracts without full texts and full texts with insufficient information for data extraction. Finally, 68 references were included for the study from which, 22 articles were critically reviewed to summarize the current therapeutic profile of niraparib. Coming to the data extraction process, general background information concerning the role of PARP in DNA repair, cancer therapeutics and earlier inhibitors of this enzyme (s) were highlighted. Coming to the drug of interest, niraparib, data regarding the chemistry, pharmacology, primary outcomes of preclinical studies as well as completed clinical trials were extracted from respective individual studies. Furthermore, important data about ongoing clinical trials were also retrieved upon visiting https://clinicaltrials.gov/ web site. Data were collected from June to August, 2017.
Conclusion and future prospects
The role of PARP family enzymes in DNA repair and cancer therapeutics was well emphasized in this review article. The development of PARP inhibitors has become one of the promising breakthroughs and hot spots in the area of experimental oncology. As documented in various histological subtypes of cancer, there are several germline and/or somatic mutations, as well as epigenetic alterations compromising effective reparation of DSBs by HR repair. This will create medically important and selective situation whereby cancer cells will be subjected to dual insult of PARP inhibitors and mutations of HR genes including BRCA1/2. Normal cells are less likely to be affected by PARP inhibitors since they have functional HR for DSB. Based on this evidence, scientists are striving to discover PARP inhibitors which have superior safety and efficacy profiles than the existing medications for cancer chemotherapy. Even if niraparib is the third drug to get FDA approval from its class, it is the first one to receive global approval for maintenance therapy of patients with recurrent gynecologic cancers regardless of BRCA and HRD status. Maintenance therapy is an important part of cancer chemotherapy for patients who have responded positively to a primary treatment. Niraparib offers patients a new treatment option that may help delay the future growth of these cancers, regardless of whether they have a specific genetic mutation. Niraparib has also several important pharmacokinetic features including negligible interaction with food; once daily dosing regimen; less likely to interact with other coadministered drugs since it is primarily metabolized by hydrolytic and conjugative pathways, and lower dosage requirement than previously approved PARP inhibitors (olaparib and rucaparib). It is also a potent inhibitor of PARP 1 and PARP 2 enzymes. Evidence from randomized phase III clinical trials indicated that niraparib can be given to any ovarian cancer patients who are responsive to previous therapy. Additional feature here is that this drug can also be given to patients irrespective of HRD status: HRD negative (HR proficient) and HRD positive (HR deficient) cells as statistically significant median PFS was observed in niraparib arms of both cohorts compared to placebo. Generally, niraparib is under investigation either alone or in combination with other treatment modalities for several cancer types. Among them, niraparib alone is under study in phase III clinical trial for maintenance treatment of patients with advanced ovarian cancer following a response on front line platinum based therapy. In combination with pembrolizumab, it is at the transition of phase I/II trials investigating the dose limiting toxicity in triple negative breast cancer patients. Moreover, the efficacy (PFS) of niraparib in comparison with physicians' choice is also under consideration in phase III (BRAVO) trial for HER2- breast cancer patients.
Abbreviations
BER:

Base Excision Repair
BRCA:

Breast Cancer gene
CHK2:

Check point Kinase 2
CRPC:

Castration Resistant Prostate Cancer
DSB:

Double Strand Break
ETS:

Erythroblast Transformation-Specific gene
FDA:

Food and Drug Administration
gBRCA:

Germline mutation of Breast Cancer gene
HER2-:

Human Epidermal growth factor Receptor 2 negative
HGSOC:

High Grade Serious Ovarian Cancer
HR:

Homologous Recombination
HR':

Hazard Ratio
HRD:

Homologous Recombination Deficiency
LOH:

Loss of Heterozygosity
NHEJ:

Non Homologous End Joining
PARP:

Poly (ADP-Ribose) Ploymerase
PFS:

Progression Free Survival
PTEN:

Phosphatase and Tensin homolog
SSB:

Single Strand Break
TNBC:

Triple Negative Breast Cancer
Declarations
Acknowledgments
We would like to thank Haramaya University School of Pharmacy staffs who gave us invaluable intellectual feedback for the realization of this article.
Funding
We didn't receive any specific grant for this review article.
Availability of data and materials
Not applicable
Authors' contributions
Both authors designed the study, collected scientific literatures, critically appraised individual articles for inclusion, wrote the review article and drafted the manuscript. MS also prepared the final manuscript for publication. Both authors read and approved the final version.
Ethics approval and consent to participate
Not applicable
Consent for publication
Not applicable
Competing interests
The authors declare that they have no competing interests.
Publisher's Note
Springer Nature remains neutral with regard to jurisdictional claims in published maps and institutional affiliations.
Open AccessThis article is distributed under the terms of the Creative Commons Attribution 4.0 International License (http://creativecommons.org/licenses/by/4.0/), which permits unrestricted use, distribution, and reproduction in any medium, provided you give appropriate credit to the original author(s) and the source, provide a link to the Creative Commons license, and indicate if changes were made. The Creative Commons Public Domain Dedication waiver (http://creativecommons.org/publicdomain/zero/1.0/) applies to the data made available in this article, unless otherwise stated.
Authors' Affiliations
(1)
Department of Pharmacology and Toxicology, School of Pharmacy, College of Health and Medical Sciences, Haramaya University, Harar, Ethiopia
(2)
Department of Clinical Pharmacy, School of Pharmacy, College of Health and Medical Sciences, Haramaya University, Harar, Ethiopia